We all know that feeling when we step onto a dock, forgetting our flip flops and you have to hustle to prevent scorching your feet trying to get to the water or the boat.  The heat in the Alabama summer is trifling and even worse on surfaces that have baked in the sun all day.  Many of us worry about our pets and young children burning their sensitive feet going to and from the water.
    One 17 year old young man invented something to solve that problem!
Meet seventeen year old Vince Visser, a Senior at Vestavia High School who spends his summers at
his family home on  Lake Martin.
Vince and his father invented Polardocks, a mister system that Vince installs himself around the lake.   A startup company here on Lake Martin, his patent pending nozzle system uses water off your hose spigot and a low pressure nozzle to cool down your dock.  
I hired Vince to install his system at our home and had a front row seat watching Vince and his helper, Owen, go to work on our pier. 
The Patent Pending Polardocks Nozzle is recessed into your pier flooring approximately every 3′ along the decking.
Vince explained the system has a low pressure drain on each nozzle that drains all the water from the lines when the system is off.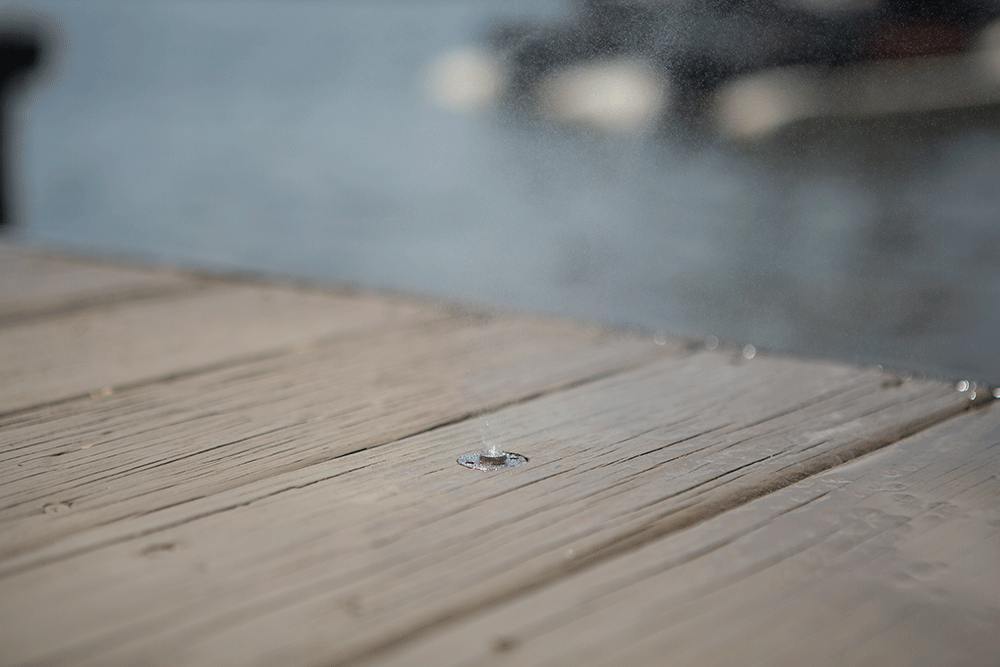 A close up of the nozzle in use. 
I wanted to check the difference in surface temperatures.  Now… I'm not a scientist, and this isn't a scientific study as I only had a meat thermometer.  On May 29th, 2022, at noon, the local air temp was 82°. 
I tested the wood where there were no misters, and then the wood close to the mister appx. 10 minutes after turning on the Polardocks, and our dock was significantly cooler.  We are able to walk barefoot on the dock in the heat without our feet burning!
If you are interested in having Vince install his patent pending dock misters at your property, he is offering a discount code for members of Lake Martin Boaters.  Just tell him you found him on Lake Martin Boaters!

Vince, thank you for keeping our feet cool, and we're sorry our dog took a bite of your sandwich, twice.  lol
Check out our video with Vince on how PolarDocks works;